Mineral water turnkey plant is technology used to desalinate the brackish water or seawater to make it safe for drinking. Therefore, we have mineral water turnkey project made using UV disinfection technology.
The mineral water turnkey project is designed to fulfill medium and large scale water purifying requirements of various industries. Equipments used in the mineral water turnkey project are made from high quality 316 stainless steel material. Equipments used in the mineral water turnkey project are manufactured by considering the universal quality standards. The mineral water turnkey project assures sturdy performance all through the process.
The mineral water plant has PLC based control system to make the entire process flawless and efficient. Our mineral water turnkey project is having 100 liter per hour to 50000 liter per hour filtration capacities.
We have specifically designed an efficient mineral water system that is easy to install and operate on turnkey basis. We are end to end fulfilling needs of mineral water plants in many sectors. We are in high demand due to the precise and efficient water plant supplied. These plants are customizable as per industrial requirement and we offer these at affordable rates. We are prominent manufacturers and suppliers of mineral water plant on turnkey basis.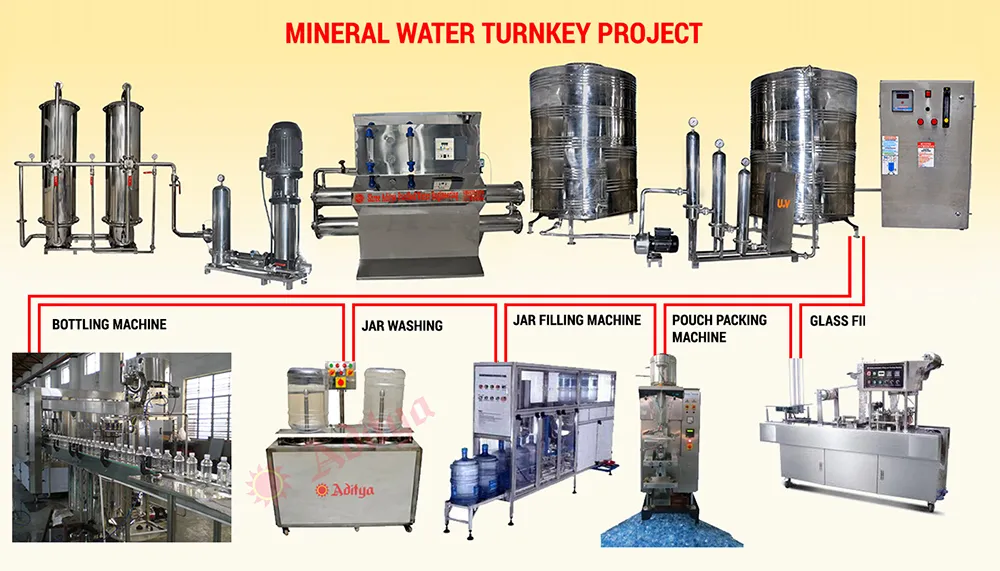 Salient features of mineral water turnkey project:
Thoroughly purified mineral water through high efficient UV disinfection technology
Made from stainless steel to resist corrosion
TDS rejection up to 95-99%
Energy efficient power system
Needs less maintenance
Sturdy construction, hence requires less maintenance
PLC control system for automatic operation
Our mineral water turnkey project is highly prioritized and we are among the top trusted manufacturers of filtration plants in India.
We are working 24/7 to provide hassle free service for your filtration requirements.