We are the leading manufacturer and supplier of jar filling machine in India. Jar filling is the essential part after filtration system to support the water immaculateness, it is fundamental to have an excellent filling machine.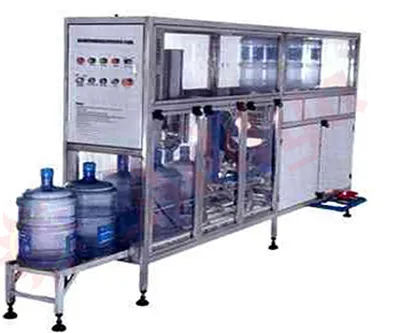 Automatic Jar Filling Machine
Owing to several years spent in purification industry, we have completed the perfect assortment of the container filling machine that is especially intended to execute jar filling activity without decaying the nature of the water.
The jar filling machine is made by using high quality stainless steel material that is highly resistant to corrosion, while the consolidation of the no fixing sensor conveys perfect jar filling experience all through. PLC control framework furnished in this jar filling machine helps control the whole interaction without any hassles.
We've maintained the universal quality standards while manufacturing the jar filling machine; it promises the highest level of quality, safety and reliability suitable for the industries engrossed in the water purification. The jar filling machine has low maintenance cost and sturdy construction for the ease of operation.
The flawless work of the jar filling machines has helped us achieve higher levels in the market today. We have wide range of jar filling machines as per your industrial specification.
Salient Features of Jar Filling Machine:
Made using top grade 304 Stainless Steel  material to resist corrosion throughout the life span
No wastage is guaranteed during the jar filling operation
fully equipped sensors to provide flawless service
PLC control enables effective controlling of the system
Continuous filling operation increase productivity
Only water filled jars are sealed
Virtually no maintenance is required
Can be used to fill 3 gallon or 5 gallon jar
We offer these machines at reasonable rates and we never leave a chance of disappointment for our customers.  We are available online 24/7 to provide hassle free services for your conventional needs, feel free to contact us when have a query.